O&O BlueCon is the disaster recovery software designed specifically for recovering data within enterprise environments. It's the first aid kit for users, administrators, and service technicians that provides a large collection of professional tools (from O&O Software GmbH) for keeping systems up and running – and getting damaged Windows systems up and running again with no new installation required. Thanks to an intuitive user interface, the integrated tools are extremely easy to use and require little time for learning how to use them.
For many IT departments (Administrators and IT Service Providers), a system crash that results in a blue screen is a nightmare. When O&O BlueCon is at their disposal, they'd not only be able to take such situations in their stride but would also increase their chances of resolving problems faster and recovering data.
BlueCon is at an administrator's side during the course of a daily routine as well as whenever disaster strikes. Based on Microsoft Windows PE – the installation platform on which all current Windows systems are founded), it offers a wide range of programs for, among other things, repairing systems, searching and correcting errors, restoring lost data, resetting passwords, and the list goes on. The program belongs to the standard toolbox of any IT administrator.
All O&O BlueCon's programs and features can be run directly from the O&O BlueCon bootable medium – CD/DVD or USB stick without any installation – even if Windows is defective or no longer able to start and by doing so prevents data loss through the writing of data to the computer, which could occur during a new installation. The program bootable medium supports Windows 10 and Server 2012 R2.
O&O BlueCon is available in four editions: Admin, Admin Plus, Tech Edition, and Tech Plus:
The Admin Edition is person-bound, i.e. it is licensed per administrator and can be applied to all computers in the company.
The Admin Edition Plus also contains O&O DiskImage for backing up and restoring data.
The Tech Edition allows the user to provide a data recovery service to clients. It is licensed per technician, i.e. it allows a technician to work on any number of different computers.
The Tech Edition Plus also contains O&O DiskImage for backing up and restoring data.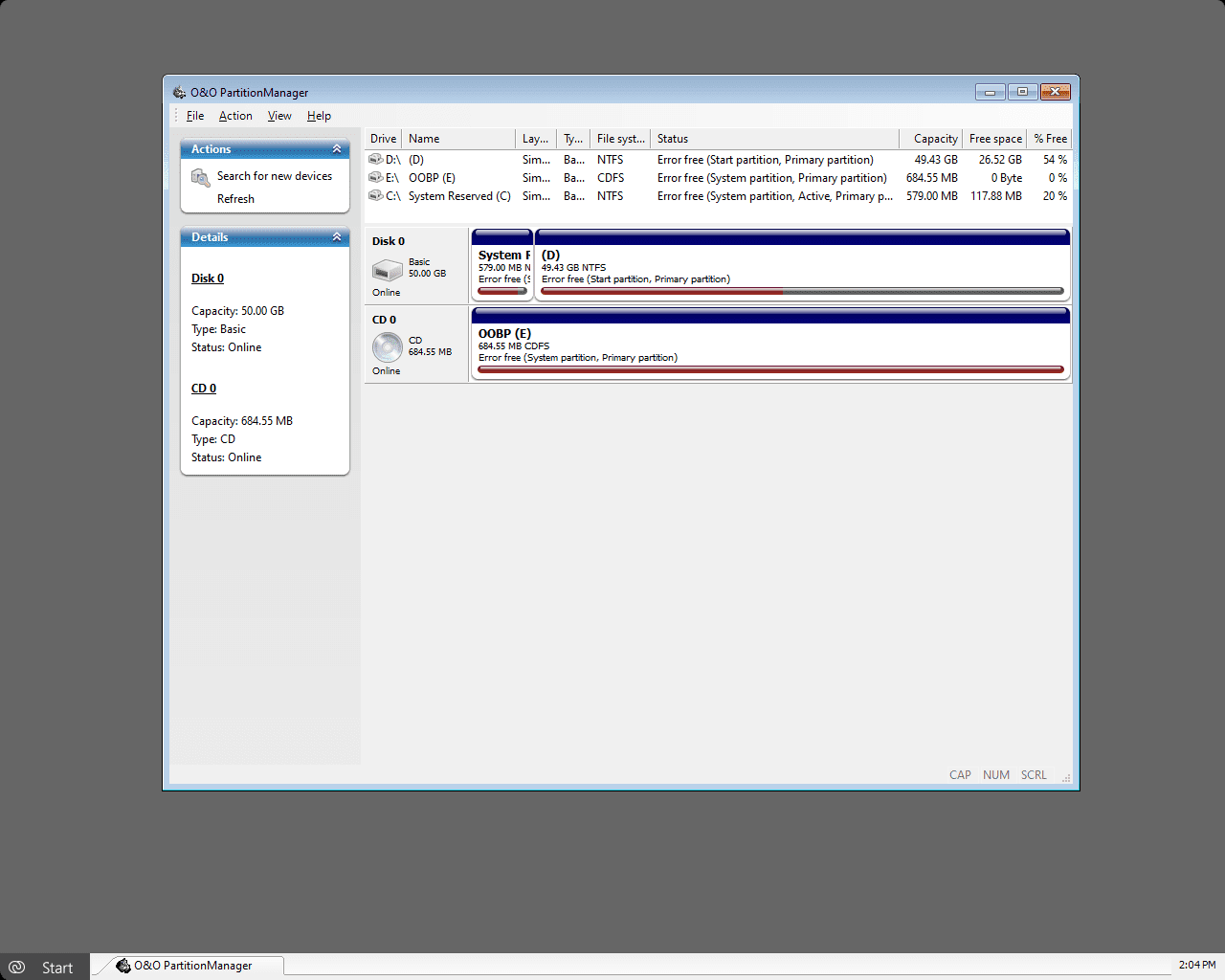 Buy O&O BlueCon at 25% OFF
Grab a special O&O BlueCon Coupon Code valid at official store!
Get Discount
Key Features:
Windows-based interface
Search for errors and check drives
Resolve Windows errors and restore systems
Manage users and reset forgotten passwords
Secure data deletion before computer disposal or transfer
Recover files that were accidentally deleted
Search for, copy, and reposition data
Reload driver even before program start
Support for Hyper-V: works in virtual environments
Start directly from bootable disk
Support Windows file systems: FAT12/FAT16/FAT32/NTFS4/NTFS5
Supports Windows Deployment Services (PXE boot server)
And much more…
Integrated O&O Apps in pack:
Backing up and restoring data: O&O DiskImage Server Edition
Restoring accidentally deleted data: O&O DiskRecovery
Driver problems and service issues: O&O DeviceManager
Secure deletion of data volumes: O&O SafeErase
Resetting passwords: O&O UserManager
Partitioning hard disks: O&O PartitionManager
Combat errors in the registry database: O&O RegEditor
Advanced error detection: O&O EventViewer and O&O CheckDisk
Command lines, option for entering commands directly – O&O Prompt
Locating and removing data: O&O FileExplorer
Readout system parameters – O&O SystemInfo
Display and edit text files – O&O Notepad
Downloading additional tools: Integrated web browser
Last Update: March 03, 2023
Current Version: 20.0.10077
License: Shareware
Languages: English, German
Supported Operating Systems:
Windows Vista / 7 / 8 / 8.1 / 10 / 11 / Server 2003 / Server 2008 / Server 2012 / Server 2016 / Server 2019
Developer: O&O Software GmbH
Homepage: OO-Software.com
NEW: Creation of a PXE Boot Medium direct from the Boot Assistant
NEW: Bitlocker drives can be unlocked and accessed
NEW: Scripting over Windows 10 networks
Disclaimer: The direct download links we provided to you for this software are from the official author's website, therefore we can't guarantee safety, availability, or download speeds. We will look into all download options for your software: online installer, full offline installer (mostly exe or msi, and in rare cases - iso, or torrent), or portable edition (mostly zip, or rar). Moreover, we don't and we won't provide any pirated/illegal versions or tools. We recommend that you avoid using these methods as these methods can harm your device. If you like this software, buy it to support its developers.