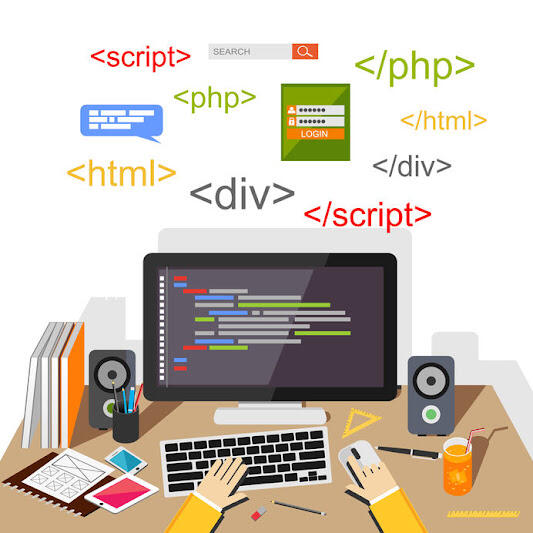 Looking to improve your web development productivity? You have got to the right place! Look around for essential or interesting free web development tools (web dev tools) suitable for both beginners and professional users (webmasters, developers, marketers, designers, and system administrators), that will help you to build and maintain your websites, improve your productivity, boost creativity, and learn how to become a better developer. Moreover, most of the services listed here will save you a lot of time and money.
We cover many types of tools on our list and for each one, we tried to give at least three different options, so you'll pick the one who you find the most suitable for you. It's including Website Speed Test and Performance Optimization, DNS Analysis, SSL Test, Security Checkers, Code Validators, Cross-Browser Compatibility Testing, Online IDE, and more...
These tools allow you to test and debug (including simulating user browsing), improve your code, and make it error-free (HTML, CSS, JS), which will result in a better user experience. This article won't give you an answer on what the best web development tools are on the web. For that, you'll need to find out yourself by testing each one individually. But for sure, you should know about these web development services!
While building this website over the years, we used some tools listed below, and we wanted to share them with you too! We also have other collections of free useful tools: Free SEO Tools or Free Web Design Tools and Resources.
Did you know? Browsers have free built-in tools!
You should know that most popular web browsers (such as Firefox, Google Chrome, and Microsoft Edge) already have built-in tools for professional web development, which are offered for free and do not require additional modules or extensions, meaning you can use them right in the browser:
Free Website Builders
Free website builders for webmasters who want to deploy beautiful, professional, and responsive websites fast and easily with a couple of clicks, without the hassle of coding and designing. You can create any type of website you desire for pretty much any topic, whether it's a personal website, blog, online store, showcase, landing page, or a corporate page. With website building platforms, you won't need any technical experience! No coding (HTML/CSS/JS) skills or any development experience are required! You should note that some of the services will show small ads on the website.
Website Speed Test & Performance Optimization
Analyze your website load speed, and learn how to increase your webpage performance and improve user experience with advanced optimization tips and recommendations. Page speed is also a ranking factor, so these tools will help you to improve your SEO too. There is no need to worry too much, however, because this factor doesn't carry as much weight as other factors.
All-In-One Website Analysis Tools
Perform a website insight of code quality, security, accessibility, and performance.
DareBoost (Free Plan) – A comprehensive yet easy-to-use all-in-one website quality analysis and performance optimization tool. Get an audit of your website's quality with a lot of advanced optimization tips. Both web and SEO professionals can find it very useful. Free plan offers 5 test per month.
Pagelocity (Free Plan) – Free online tool to quickly analyze your website and get optimization tips.
DNS Analysis Tools
Perform a DNS lookup from multiple countries.
SSL Certificate Testers
Diagnose the SSL certificate configuration of your domain.
Domain Reputation/Trust Checkers
Find out if your website is safe from malware, and check your domain reputation/trust.
Responsive Testing Tools
Free responsive design testing tools. Test your website on any screen size including desktops, tablets, televisions, and mobile phones.
Cross-Browser Compatibility Testing
There are plenty of different web browsers that each one comes in many different versions. These tools help you to test your website among 1000+ different browser versions and to make sure your website working correctly on all of them. Some of them allow you to simply take screenshots and others allow you to perform a live test on a cloud virtual machine. You can check the browser market share worldwide by StatCounter, or browser statistics by Stetic.
Code Manipulation and Optimization Tools
Free online code manipulation and optimization tools.
Minification, Compression and Cleanup Tools
Make the size of your source code much smaller with HTML, CSS, JSON, and Javascript minification and compression tools to improve your website's load time, get cleaner code, improve your programming style, and reduce bandwidth consumption of your server. Compress your files up to 90% of their original size by removing unnecessary characters (such as whitespace or comments), combining duplicate elements, shortening element names, and more techniques. You should note your code might not be readable anymore.
Find Unused CSS code
Identify unused CSS definitions in your stylesheets and remove them. You can also use the 'Coverage' tab in Chrome Developer Tools to find unused CSS.
Code Formatters/Beautifiers
Free tools to beautify, deobfuscate and format your code, making it readable.
Validate Code
Tools to validate your website code (HTML, CSS, JS) quality and make sure it meets the accessibility standard.
Regex Debuggers
Free online regular expressions (shortened as regex or regexp) debuggers/testers for Javascript, PHP, Ruby, Java, and Python. Learn, build and debug regex patterns easily. You should notice that there are many regex engines, which means that regular expression syntax, style, and feature sets support might be a little different between different coding languages (the basics are the same but there are some little differences). For example, PHP uses Perl Compatible Regular Expressions (PCRE) while Javascript uses ECMAScript. If you wish to learn the basics of Regex, you can try: RegexOne – an interactive tutorial to learn regular expressions by exercises.
Difference Checkers
Free online diff tools to visually compare two files (text, source code, pdf, etc) against each other to find differences.
DiffChecker – An advanced online comparison tool to find the differences between two text, pdf, or image files.
W3Docs Code Diff – Free online tool to compare two text inputes. With this tool, you can effortlessly identify the differences between the provided texts as it efficiently highlights them.
Code Obfuscation - Protect Your Code
Javascript Obfuscators
Free online JS obfuscator tools to protect your JavaScript code from theft or reuse. Using advanced algorithms these services transform your code and make it difficult to understand by humans. Although it's impossible to get 100% protected code, it will at least hide it from newbie programmers trying to steal your projects. For most of the obfuscators listed here, users can just use JavaScript beautifiers to make it readable again, but beware some obfuscators are one-way and cannot be reversed-engineered using this method. These services will also compress and optimize the code to improve website performance and save server bandwidth.
PHP Obfuscators
Although website visitors can't see your PHP code, obfuscating it is ideal when you want to hide your code from web hosting employees or privileged users. The tools listed below will allow you to obfuscate only individual files, if you need to protect multiple files fast, deploy the following free GitHub repository in your server: pH-7 Obfuscator.
Deobfuscators
Deobfuscators are useful when you want to decode your own code, or when you want to check if an obfuscated code is malicious.
UnPHP – Free online PHP decoder.
Deobfuscate.IO – A powerful javascript deobfuscator that support decoding of multiple obfuscation techniques.
Deobfuscate.IO – Free JavaScript deobfuscator and unpacker.
Free CDNs
Free CDN services to get greater website performance and security. You can compare CDN services on CDNPerf.
For Third Party Libraries
Free public content delivery networks (CDN) that host javascript libraries (such as jQuery), fonts (such as Google Fonts), and CSS frameworks (such as Font Awesome, or Bootstrap), and serve them from multiple server points around the world with better cache mechanism to increase website performance. These services provide fast, reliable, and automated solutions for serving files on the web with no bandwidth limits.
For Entire Website
Free CDN solutions for your entire website or media assests that help your website to load faster by serving your images and static files (like CSS and JavaScript) from global network.
Web-based IDEs and Code Editors
Cloud-based code editors and IDE (Integrated Development Environment)/WYSIWYG (What You See Is What You Get) Editors to test your coding skills and debug your code without the hassle of installing and configuring a local development environment. Most of these tools allow you to get a live preview of your code.
Free Website Monitoring
Free website monitoring services to watch over your website health, uptime or page speed and get alerts when a problem is detected (like when your website is down or when there is a performance issue).
Web Development Communities
Online web development communities/question and answer sites that allow developers to help each other by asking questions. Connect programming communities to learn how to code, develop your development skills, solve coding problems with the help of professional developers around the world, or share your own programming knowledge with others.
Cookies Management and Monitoring
Identify the cookies that are installed on your website. Get cookies insights and verify if your website comply with the Data protection laws: EU Cookie Laws (ePR – ePrivacy Regulation) and GDPR (General Data Protection Regulation). Cookies are small text files stored on your browser with information about websites you visit. Alternativly, you can audit your website for cookies manually by using browser inspect tools. For Chrome/Opera: You need to open the developer console. 1. Click on the top-left button (three vertical dots) > More tools > Developer tools or Right-Click on your page and click on "Inspect". After you have opened the developer console, you should go to "Applications" tab and expand the "Cookies" option from the menu on the left under "Storage" tab (You can also click on the lock icon next to the URL on the top address bar). For Firefox: Same as Chrome, instead of "Inspect" – it will be named "Inspect Element", and instead of "Applications" tab – it will be named "Storage".
Source Code Search Engines
Free source code search engines to search the web for code lines inside websites source code or source-code repositories such as GitHub, Bitbucket etc. Using these tools you can improve your programming skills, remove legacy code, and fix code issues.
SearchCode – Search the web for functions, code snippets, API's and libraries in 240+ languages across 10+ public code sources (over 40 million projects).
Sourcegraph (Free Plan) – A source code search engine for developers that support searching codes on more than 500,000 repositories such as GitHub, Azure DevOps, AWS CodeCommit.
PublicWWW (Free Plan) – A free source code search engine for website owners and digital marketers that allows you to search for and inside websites on the web. You can search inside the source code of websites for specific HTML, JavaScript, CSS snippet, sites that use specific versions of nginx server, sites using specific WordPress theme, sites that mention you and more.
Free Privacy Policy Generator
Generate a free privacy policy or other legal documents (terms & conditions, cookies policy, etc.) that are required by law. Ensure your business is covered. Comply with many privacy laws around the world, such as GDPR (EU General Data Protection Regulation), CalOPPA (California Online Privacy Protection Act), CCPA (California Consumer Privacy Act) and more.
Free Web Hosting
Free web hosting services for startups.
DNS Hosting
DNS (Domain Name System) hosting services will help you to manage your domain names. DNS services convert domain names into IP addresses, so instead of connecting IP addresses, we can access a website using its domain name like "domain.com". You can compare DNS services on DNSPerf.
Cloud Hosting
Use cloud hosting to safely store and backup your website data online. If you care about privacy, you should check if your cloud hosting has a zero-knowledge policy, which means no one besides you has access to your files, even the cloud hosting employers. This security model made possible by encrypting the files before they reach to the cloud server (usally a client-side encryption by the browser). Alternatively, you can encrypt the data yourself before uploading it to the cloud (f.e. by using Axcrypt or any archiving software).
Technology Lookup Tools
Discover which technologies are being used by certain websites and apps including CMS, frameworks, CDN, analytics tools, payment processor, WordPress plugins, JavaScript libraries, programming languages, fonts and more. See behind the hood of any website and find out how they was built.
All Website Types
Wappalyzer (Free Plan) – A website profiling tool to identify technologies that are used on websites. Free plan offers 50 credits per month.
WhatRuns – A technology profiler tool to simply look up for the technologies that are behind any website.
BuiltWith – Find out what websites are built with.
WordPress Only
Server Management Tools
Handy tools to manage your server.
Website Security Tools
Security tools designed to thoroughly assess the security level of your website.
HTTP Request Debugging Tools
Online tools to perform and test HTTP requests.
Learn Programming
Free resources to learn how to code or to improve your current web developing skills. You can check Stackoverflow's Survey for the most popular technologies languages to help you decide which language you should learn first.
Learn Multiple Languages
Learn HTML
Learn CSS
Learn JavaScript
Learn PHP
PHP is an open-source server-side scripting language that powers the most popular websites and also the popular CMS - WordPress. According to W3Techs, PHP is the most popular server-side programming language.
PHP.net Manual – The official PHP manual from the creators of PHP. To enhance your skills and discover valuable snippets, make sure to refer to the comments.
Learn SQL
C#
Learn Web Security
Resources to learn how to protect your web application from hackers.
Cloudflare Learning Center – Comprehensive guides on cyber security and internet.
PortSwigger Academy – Web security training from the creators of Burp Suite.
Invicti Learn – Provides comprehensive information on web vulnerabilities and guide you on how to detect, avoid, and mitigate them. Check the full index from the left.
Learn WordPress Development
Whether you are just starting out with WordPress or looking to expand your knowledge, these guides provide step-by-step instructions and helpful tips to help you enhance your WordPress skills and create even more dynamic websites. You can even learn how to build your own plugins, themes, widgets and other WordPress components. You can also try experimenting with WordPress on your computer by setting up a local server or testing it on your browser with WordPress Playground.
WordPress Learning Center – The official WordPress learning hub. You can also check the WordPress Codex, and WordPress Developer Resources, that provides comprehensive guidelines and valuable references for developers looking to modify, expand, or make contributions to WordPress. Additionally, you can also find videos tutorials in WordPress.tv.
Wpza (Free Plan) – Informative and insightful WordPress guides, showcasing essential tips and tricks and providing interactive demonstrations and detailed guides on utilizing specific functions.
WPCode Snippets Library – Enhance your skills and boost your productivity with a collection of over 700 expert-curated WordPress code snippets.
Miscellaneous
That's it! if you have any suggestions please feel free to contact us by email. Hope we helped you!