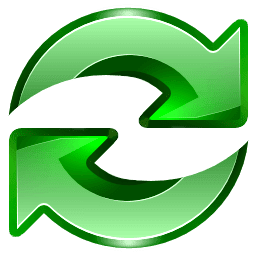 FreeFileSync is an easy-to-use, open source folder comparison and synchronization tool that creates a backup of your files to another location using an effective algorithm of file comparison. It's an ideal tool for anyone who wants to back up their valuable data so that it becomes easier to retrieve it in case of emergency (f.e when your PC encounters a technical error). With FreeFileSync, you can easily back up your important files on different storage devices and recover them anytime you want.
FreeFileSync supports any type of storage device on your PC such a local file system or network sharing. It can also be an external memory storage device or a cloud storage location (that utilizes FTP, FTPS, SFTP, or MTP) such as Google Drive. Having multiple backups on different storage devices is always a relief because you can easily recover your valuable files when your PC encounters a technical error.
FreeFileSync is a file synchronization tool that designed to help users create a backup for their important files with minimum effort. This tool offers an easy-to-use interface that'll make it easier for users to instantly back up their data and manage different backups more effectively. It's an ideal tool for users who often have to create backups for a large amount of data, but have limited time to complete the process.
FreeFileSync is also an effective and detailed folder comparison tool. Instead of copying each and every file in a folder or multiple folders to your target online or offline storage, FreeFileSync will just synchronize the differences by determining the files that have recently changed. It does this by identifying the differences between the source folder and the target folder. This will not only prevent creating unnecessary duplicates that clutter your storage but will also use the minimum amount of data to process it.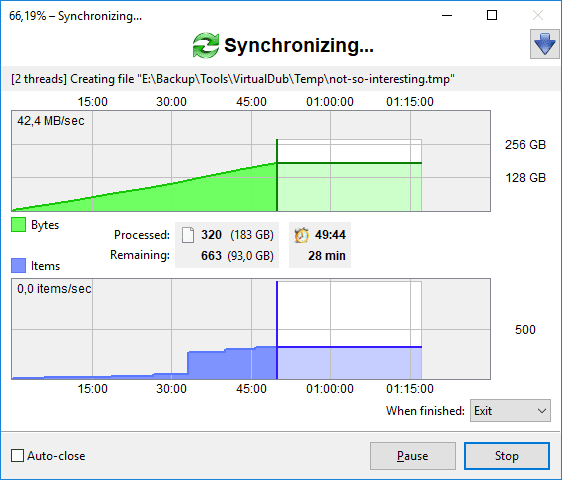 The two basic steps of FreeFileSync lets you compare and synchronize your data. Just pick the folders that you would want to compare, and the software will show you a detailed list of all the differences that it found following the qualifiers you identified. It will then show you how it plans to synchronize the differences, so you can manually audit them just in case you do not need to copy everything.
Another advantage of this tool is RealTimeSync. This is helpful for continuous folder synchronization. With this, the software will continuously monitor the folders you have identified, waiting for any file change notification. When a change happens, it will execute a user-defined command line, so it will automatically sync with the target storage. This will leave the mundane task of updating backup files to the software. You can set IdleTime for this, so you can configure a regular time span for detecting and implementing changes.
With FreeFileSync, you can even create batch jobs to automatically back up data from your PC's internal hard drive. This will be a great feature for users who have to create frequent backups. Since you can easily automate the entire backup process, FreeFileSync will ensure that all your important files are included in the backup. This being an open-sourced tool, FreeFileSync is funded by donations. Donors will have access to additional features such as an auto-updater, portable version, and parallel syncing.
Key Features:
Easy to use and intuitive interface
Highly optimized run-time performance
Detect moved and renamed files and folders
Detect conflicts and propagate deletions
Parallel comparison and synchronization of multiple files
Fail-safe file copy prevents data corruption
Sync files to network shares or local disks
Synchronize via SFTP (SSH File Transfer Protocol)
Mobile device synchronization via MTP
Copy NTFS extended attributes (compressed, encrypted, sparse)
Comprehensive and detailed error reporting
Use macros for recurring backups
Create batch sync jobs
Full Unicode support
Last Update: November 27, 2023
Current Version: 13.2
License: Freeware
Languages: Multiple Languages
Supported Operating Systems:
Windows XP / Vista / 7 / 8 / 8.1 / 10 (32-Bit, 64-Bit)
Mac OS X 10.7.5 or later
Linux
Developer: Zenju
Homepage: FreeFileSync.org
Fixed crash when getting invalid data after item type check
Fixed copying symlinks pointing to network folders
Support resolving network paths in the NT namespace
Support FTP servers with broken MLST command (Pure-FTPd)
Fixed FTP access error on file names containing special chars
Include raw FTP server response in error message
Quickly check server connection using a single FEAT
Don't change working directory when sending a single FTP command
Support FTP Unix listings missing group name
Support RFC-2640-non-compliant FTP servers having UTF8 disabled
Support FTP servers returning non-routable IP in PASV response
Support IPv6 when establishing FTP connections
Start external application keyboard shortcuts with zero
Disclaimer: The direct download links we provided to you for this software are from the official author's website, therefore we can't guarantee safety, availability, or download speeds. We will look into all download options for your software: online installer, full offline installer (mostly exe or msi, and in rare cases - iso, or torrent), or portable edition (mostly zip, or rar). Moreover, we don't and we won't provide any pirated/illegal versions or tools. We recommend that you avoid using these methods as these methods can harm your device. If you like this software, buy it to support its developers.