FxSound (formerly DFX Audio Enhancer/DFX or FxSound Enhancer) is a popular sound booster tool with over 46 million downloads worldwide that boosts the sound quality of your music. The core technology and audio enhancement that came with DFX is now in the new and improved FxSound.
FxSound dramatically enhances the sound quality of most of your favorite media players (iTunes, Windows Media Player, and Winamp…), online music and video content streamed over the web (YouTube, Pandora, Spotify etc…), and applications with 3D Surround, higher fidelity, booming bass and more, providing exceptional playback quality on your PC.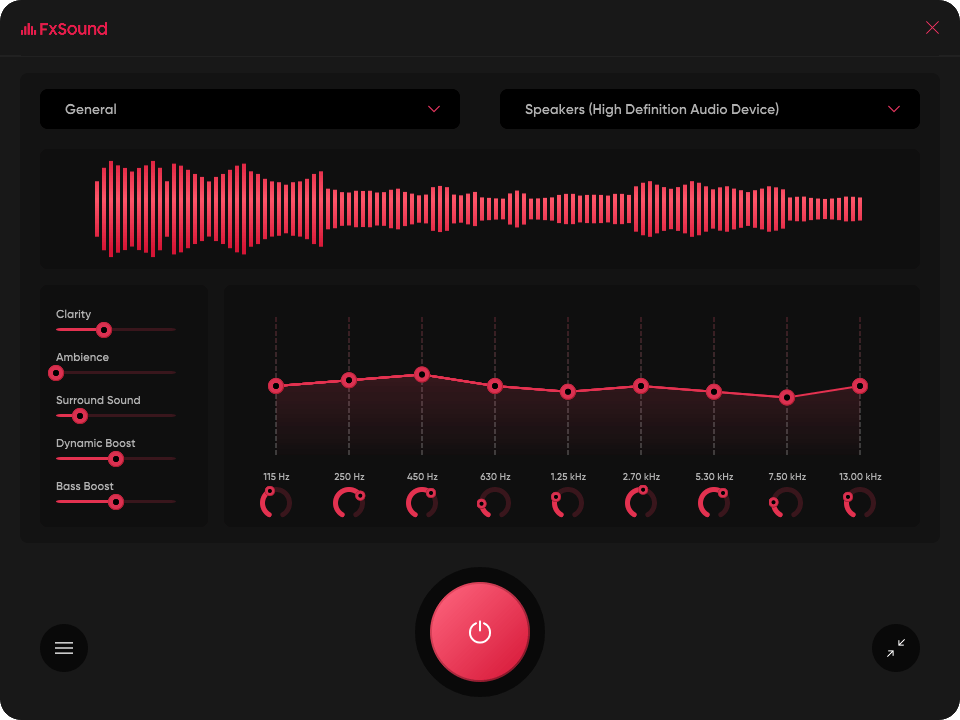 FxSound uses only your CPU to do its processing and does not depend on any features of your sound card or PC sound system. Furthermore, the program uses minimal CPU power to do its processing, and can easily run on a processor as slow as a 133MHz Pentium. So whether you have basic or advanced sound setups, FxSound will be fully compatible and complement your PC audio.
The premium "FxSound Enhancer" has been discounted and now named as "FxSound" and comes with new features such as parametric EQ, presets, keyboard shortcuts, and more. FxSound has become free for all, and moved to a donation model. Active customer support is discontinued as well, but you can still get help from the community at the FxSound Forum.
DFX Gold is our paid legacy software that's no longer for sale. The new and forever free FxSound has new presets, a new parametric EQ, keyboard shortcuts, and more. FxSound has improved sound quality and new features. Plus it's free. FxSound Premium is our paid legacy software that's no longer for sale. The new and forever free FxSound has new presets, a new parametric EQ, keyboard shortcuts, and more.
Free version limits are:
Occasional interruptions to FxSound enhancement.
Limited access to adjusting FxSound Effects
Limited access to FxSound Presets
No capability to save your own FxSound
Presets FxSound Free is not minimizable
Upgrade to FxSound Enhancer from DFX Audio Enhancer
Upgrade Now
Key Features:
User friendly and sleek design
Advanced DSP Sound Quality Enhancement
3D Surround Sound – Immerse yourself inside the music
Stereo Ambience – Renew lost stereo depth
Dynamic Gain Boosting – Pump up the volume
Headphones Optimization – Hear more pleasant, natural sounds with headphones
Customizable Music Presets – Select finely-tuned settings for many styles of music
Booming HyperBass – Produce deeper, richer bass
High Fidelity Restoration – Eliminate that "muffled" sound
Spectrum Analyzer – "See" DFX enhance your sound
Music and Speech Modes – Get optimized sound for any type of audio
Customizable Skins – Choose from hundreds of amazing skins
Enhances most online gaming websites and web apps
Enhances most popular media players
Speakers and Headphones Optimization
Real-time audio enhancement
5.1/7.1 Surround Sound Support
Last Update: October 01, 2023
Current Version: 1.1.20.0
License: Freeware
Languages: English
Supported Operating Systems:
Windows XP / Vista / 7 / 8 / 8.1 / 10 / 11
Developer: FXsound
Homepage: FXsound.com
Disclaimer: The direct download links we provided to you for this software are from the official author's website, therefore we can't guarantee safety, availability, or download speeds. We will look into all download options for your software: online installer, full offline installer (mostly exe or msi, and in rare cases - iso, or torrent), or portable edition (mostly zip, or rar). Moreover, we don't and we won't provide any pirated/illegal versions or tools. We recommend that you avoid using these methods as these methods can harm your device. If you like this software, buy it to support its developers.