Passware Kit Forensic is Passware's most complete encrypted evidence discovery and password cracking solution trusted by Forensic Investigators around the world. It combines all Passware, Inc. proven password recovery tools and encryption detection technology that has developed and improved for the past 14 years.
Passware Inc. is a trusted password recovery company which has few big corporations among their customers including Microsoft, Adobe, Apple, Intel, Walmart, Hewlett-Packard, Deloitte, Ernst & Young, KPMG, PricewaterhouseCoopers, Department of Justice, US Senate, NASA, FDA, IRS, and many more.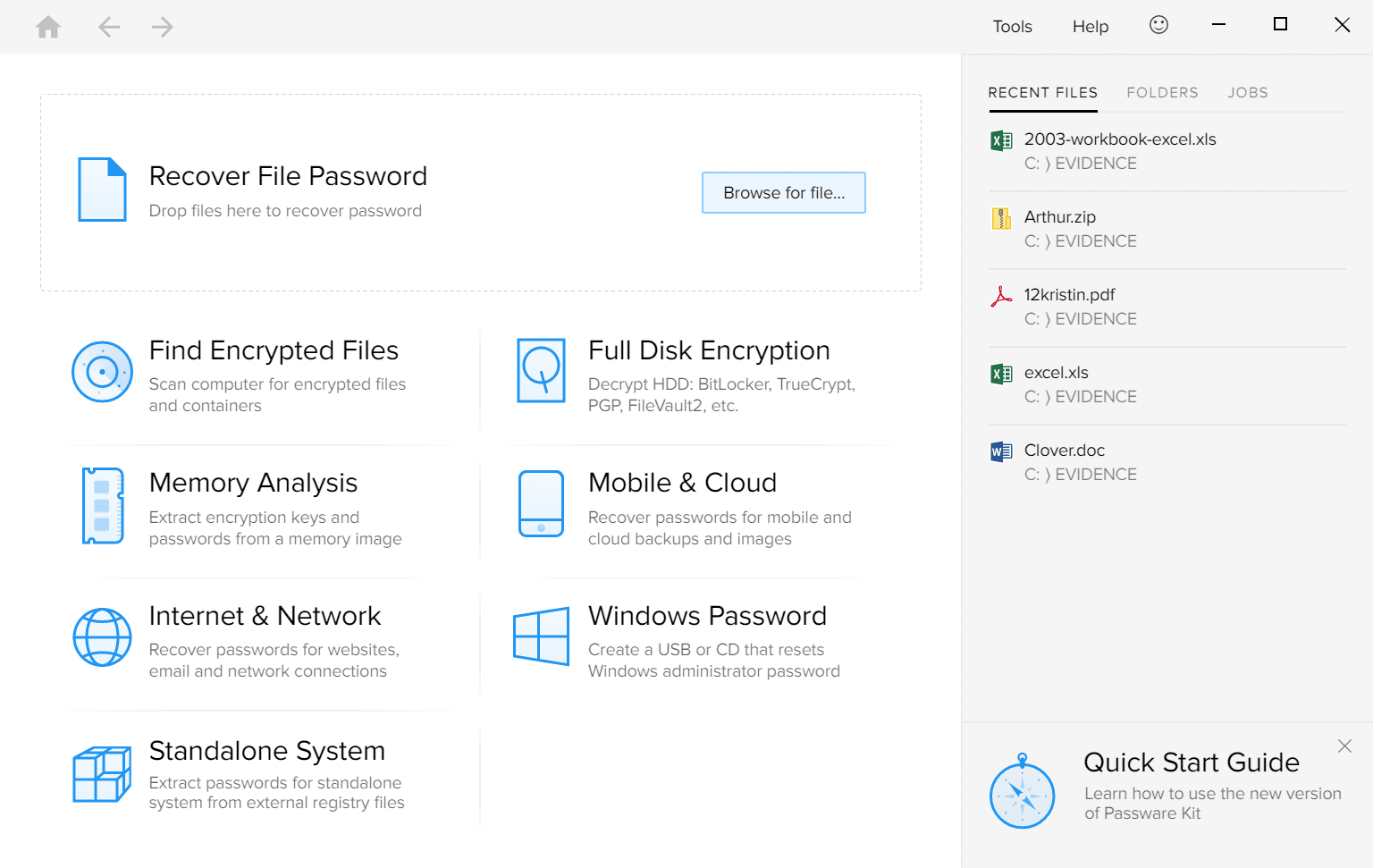 The Forensic edition of Passware Kit includes over 30 password recovery tools, Encryption Analyzer Professional, Search Index Examiner, FireWire Memory Imager, and a Portable Version to provide immediate password recovery for any protected file detected on a PC or over the network while scanning.
The Passware app supports Both Windows and Mac platforms. However, the Mac edition has some limitations.
PasswareKit Forensic recognizes 280+ file types (Full List) and works in batch mode recovering their passwords. Many types of files are decrypted instantly, other passwords are recovered with Dictionary and Brute-force methods.

To recover difficult passwords and to achieve the highest speed, Passware Kit Forensic efficiently uses distributed and cloud computing, multi-core and multi-CPU systems, nine password recovery attacks, nVidia, and ATI GPU, and Tableau TACC hardware acceleration.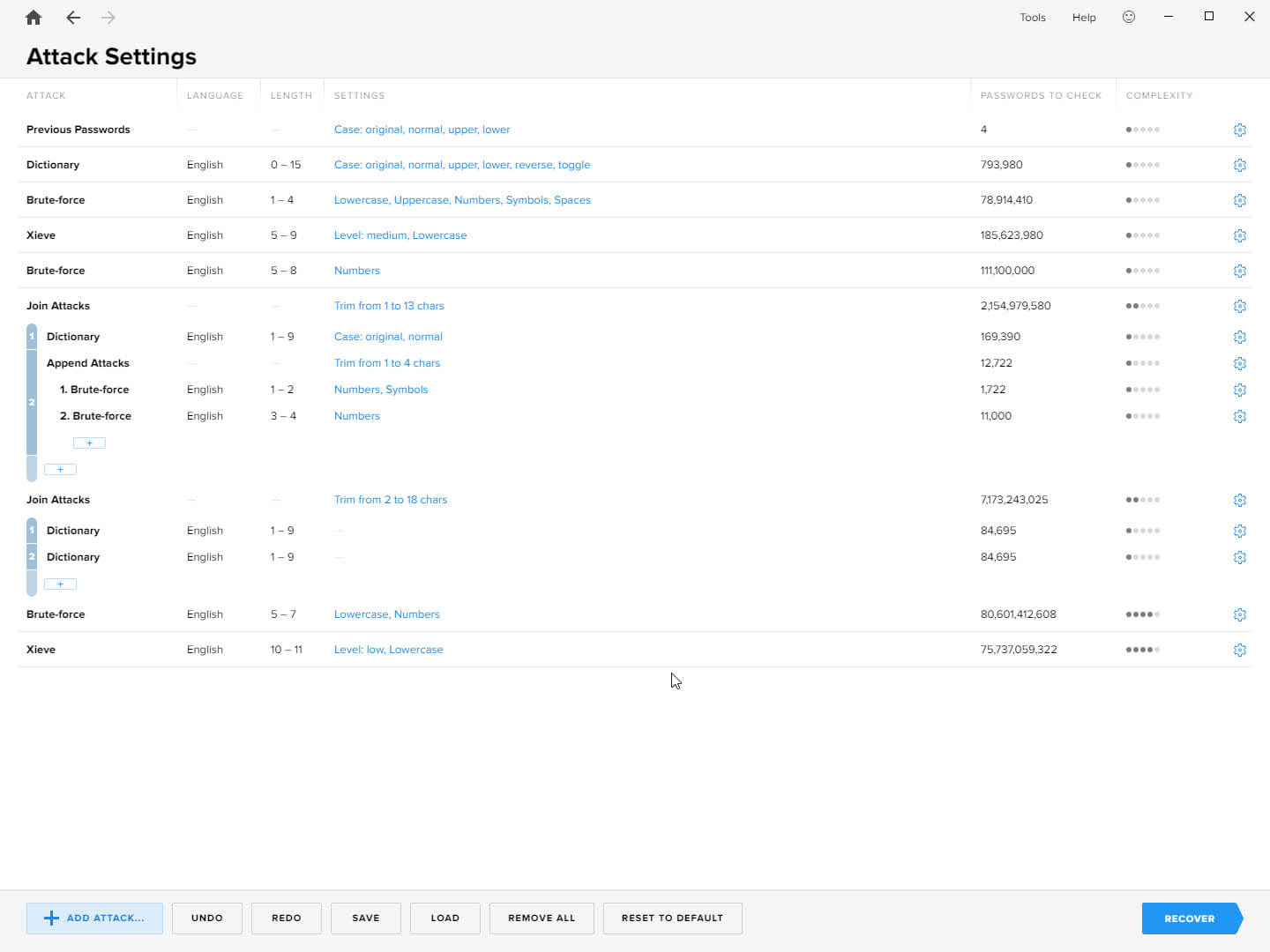 In addition, the program acquires and analyzes live memory images, decrypts hard disks and smartphone data, and allows you to get administrative access to Windows and Mac computers.
Buy Passware Kit Basic/Standard/Standard Plus/Business at 15% OFF
Reedem exclusive Passware Kit Coupon Code valid at official store!
Get Discount
Key Features:
Simple, easy to use interface
Fast encryption detection engine
Recovers passwords for 280+ fle types
Accelerated password recovery
Integrated with Guidance EnCase v7
Scans computers and network for password-protected files
Acquires backups and data from cloud services
Decrypts FDE: BitLocker, TrueCrypt, FileVault2, and PGP
Process multiple files in batches
Automatic software updates
Live Memory Analysis
Last Update: October 19, 2023
Current Version: 23.4.0.3789
License: Shareware
Languages: English
Supported Operating Systems:
Windows 8 / 8.1 / 10 / 11 (64-Bit Only)
Windows Server 2003 / Server 2008 / Server 2012 / Server 2016 / Server 2019 / Server 2022 (64-Bit Only)
Mac OS X 10.14 or later
Homepage: Passware.com
A new UI for easy navigation and intuitive access to all of the application's features.
Passware Kit now decrypts APFS disk images via live memory analysis and GPU-accelerated brute-force password recovery.
Passware Kit now extracts multiple evidence types from memory images in a single streamlined process, from encryption keys and passwords to cloud authorization tokens.
And more…
Disclaimer: The direct download links we provided to you for this software are from the official author's website, therefore we can't guarantee safety, availability, or download speeds. We will look into all download options for your software: online installer, full offline installer (mostly exe or msi, and in rare cases - iso, or torrent), or portable edition (mostly zip, or rar). Moreover, we don't and we won't provide any pirated/illegal versions or tools. We recommend that you avoid using these methods as these methods can harm your device. If you like this software, buy it to support its developers.